Hollywood is making more movies, TV shows about Asian Americans – Voice of America – VOA News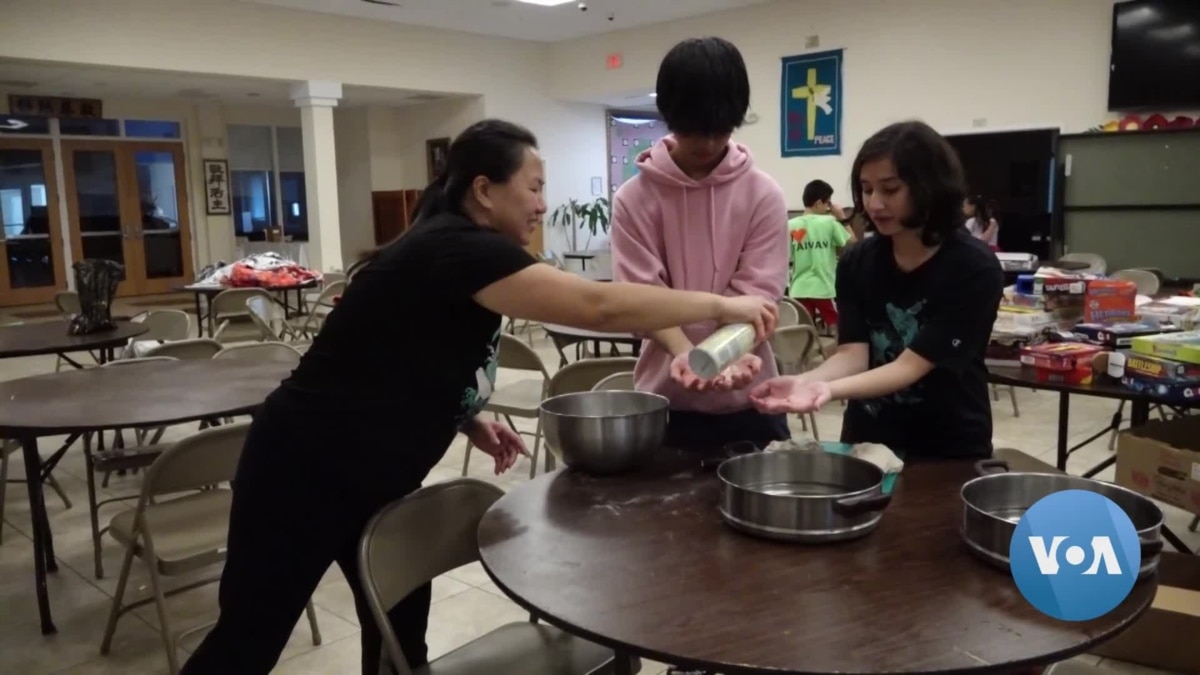 Washington —
In recent years, there have been more prominent TV shows and movies starring Asians and Chinese Americans, many of them aimed at younger audiences.
The proliferation of media showing Asian Americans is more than just a product of the streaming era. For summer camp director CC Hsu and her students, it's also a step toward a more accurate representation of their identities.
The summer camp hosted by the Washington DC Taiwanese School, located in Maryland about 30 kilometers (18.6 mi) north of the US capital, is made up of the children and grandchildren of immigrants from Taiwan.
"Our community is generations," Hsu said.
Hsu, who emigrated to the US as a child, wants to teach the students at the summer camp more about her culture. She said what she sees at summer camp is mirrored on screen in the new Disney+ show "American Born Chinese."
The show is about a child of Asian immigrants who is introduced to a new student from China and their adventures as a result of their budding friendship.
"When he [main character Jin Wang] says several times, "Can you say that more slowly? My Chinese is not very good, "this is something that is very, very familiar with the children who attend the Taiwanese school," Hsu said.
Emmanuelle Roberts, Hsu's daughter and a camp student, said she would like to see more Taiwanese-American representation.
"I don't feel that Taiwanese and Taiwanese American people are portrayed enough in the media," she said.
Her comments reflect a desire among many Taiwanese Americans for recognition of an identity distinct from that of Chinese Americans.
"Most of the time I just think of myself as Asian-American or Taiwanese-American," said Freddy Meng, another camp student. "I don't identify very much with Chinese American."
More Asian faces on screen
One of the many reasons Hollywood is producing more Asian-American stories, experts said, is that changes in the structure of the industry have opened more doors for Asian talent in front of and behind the camera.
"In the last few years, the last decade or so, Hollywood — like much of corporate America — has shifted to thinking about diversity as one of its core values, thinking, 'How do we create a pipeline?'" said Brian. Hu, a professor of television, film and new media at San Diego State University and artistic director of the San Diego Asian Film Festival.
"This is one of the first times the showrunner is Asian-American or Chinese-American, where the production team behind it and all of the cast and crew are… Asian-American or… Chinese-American, and part of that is because we have a new generation of talent… who… sort of reach that level in the industry where they have that influence," said Jason Coe, assistant professor at the Hong Kong Baptist University Academy of Film.
Hollywood has also become more aware of the importance of Asian-American representation as part of its broader commitment to diversity.
"Asian Americans are part of the diversity equation… 20 years ago that wasn't necessarily the case. It wasn't necessarily obvious that if you do diversity, Asian faces are part of that," Hu said.
The rise in anti-Asian hate incidents during the pandemic is another reason behind more shows about Asian Americans, said Yao Zhang, a Chinese-Canadian YouTuber and human rights activist.
"Some people, especially Chinese, want to show the world that we're not all spies, right? We're not all cops, are we?" Zhang said. "For example, we are a loyal American citizen or whatever, or just to see another part of us."
Hollywood has been looking beyond the US to China for years to reach one of the largest movie markets in the world. But movies would first have to get past Beijing government censorship.
"This obsession of Hollywood coming into China, that obsession was especially high, like 10 years ago, where you see a lot of co-productions happening," Hu said.
The Tom Cruise sequel "Top Gun: Maverick" was accused of making changes to appeal to China. In the original 1986 movie "Top Gun", the Taiwanese and Japanese flags were featured on Cruise's bomber jacket. In the trailer for the 2022 sequel, those flags do not appear. The film was accused of self-censorship to please Beijing because China considers Taiwan part of its territory.
"When the original teaser or trailer came out it was either digitally erased or a more politically neutral flag was inserted so as not to offend the mainland audience, but as soon as they realized they wouldn't be that audience the Taiwanese flag came back ' Hu said.
Chinese company Tencent Holdings was said to be an investor, but the company decided to pull out of the film over fears that the strong pro-US military themes would anger Beijing. The Wall Street Journal reported. The film has never received permission from Beijing to be shown in China.
Last week, Politics reported that the US Department of Defense has updated its rules for filmmakers, saying that if Hollywood wants help from the US military, it cannot let China censor its films.
Film analysts say production companies may be able to do better by targeting audiences closer to home.
"If they see themselves as the first to make a culturally American film, of course it will have global appeal, but they know what they know, especially that is American culture and the American way of making films that have to conform to culturally someone else is a big list, and I think they realized we shouldn't be so obsessed with the China market that we forget who we are," said Hu of San Diego State University.
Some recent productions on Chinese American stories have received positive reviews.
"I think both 'Everything Everywhere All at Once' and 'American Born Chinese' were made with the Asian American and Chinese American audience in mind, and I believe the immigrant story is a very American story," Coe said.
"I think we're proving there's money to be made here. People want these stories," said Hsu, the director of the summer camp.
A greater representation of Asian-Americans means roles are less rooted in stereotypes, activist Zhang said.
"In the TV shows or in the movies, we're ordinary [a] certain type of people, like nerd, IT [information technology] specialist – all guys are IT specialists, all women are accountants, all nerds," Zhang said.
The 2023 Hollywood Diversity Report conducted with the help of the Los Angles College of Social Sciences at the University of California found in theatrical films that Asians make up 2.3% of lead actors, 6.5% of overall acting roles, 5, 6% of directors and 4.5% of writers in 2022.
According to the 2020 U.S. Census, Asians, Native Hawaiians, or other Pacific Islanders make up 6.2% of the U.S. population.
It is not known whether more Asian Americans will find work in Hollywood in 2023. For people like Hsu and her summer camp participants, greater representation is important not only to see more faces that look like them, but also to ensure their experiences are meaningful. displayed on the screen.
Adblock test (Why?)