'Curiously endearing': watching Ryan Reynolds' TV block in Wales like an American – The Guardian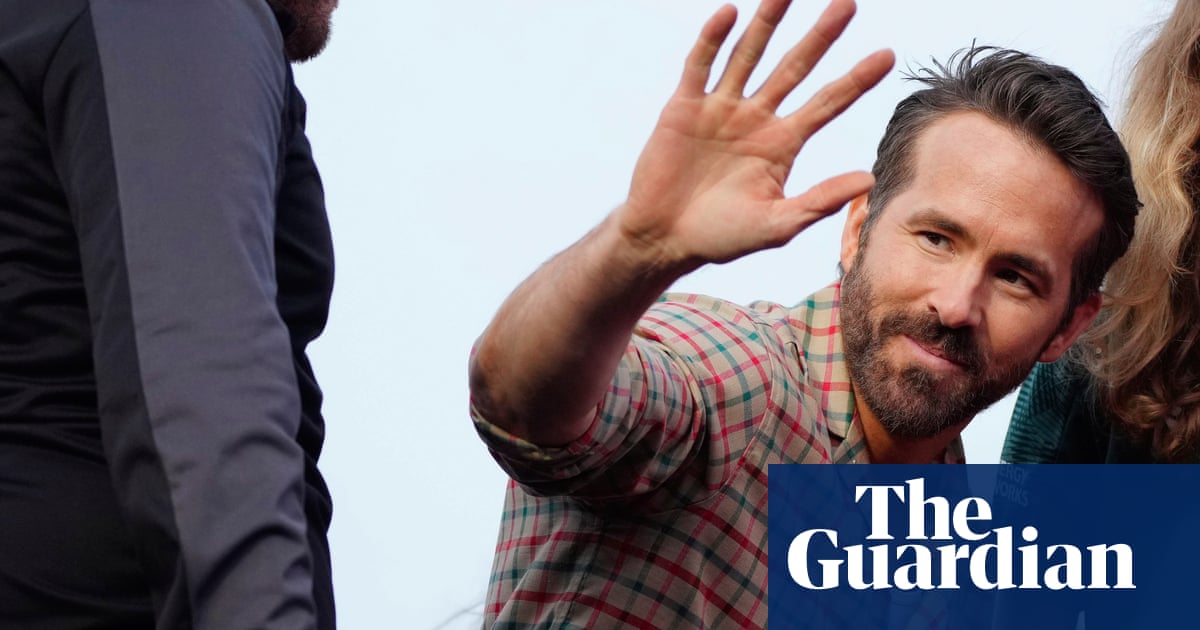 You'll chwerthin. You will cry. You will cry.
That reports a trailer for Welsh Wednesdays, the six-hour program of Welsh television programs that the actor and recent cambrophile Ryan Reynolds has brought to his new American entertainment channel Maximum Effort. In keeping with Reynolds' crazy sensibility, most of the Maximum Effort shows are nostalgic American TV comedies. But the hump day special showcase promises a weekly infusion of exotic entertainment, unlike anything on the usual suspicious streaming platforms.
Reynolds clearly gets a kick out of Welsh culture. Last year, he and fellow actor Rob McElhenney, of It's Always Sunny in Philadelphia fame, released a feel-good docuseries about their ongoing effort to rehabilitate a failing Welsh football club, Welcome to Wrexham. The show is the Deadpool star's love letter to a country a world away from his primary base of Los Angeles. Judging by Wednesdays in Wales, the romance with a country whose population rivals Connecticut's only heats up.
Shown on sports-focused streaming service Fubu, the Maximum Effort channel is an offshoot of Reynolds' production and investment company. Recent projects include Mint Mobile, Aviation Gin and Betty Buzz, a non-alcoholic cocktail company founded by Reynolds' wife, Gossip Girl star Blake Lively.
Typically, the network airs comedies such as Alf, Mad TV, and The Office (the original, UK version), as well as Bedtime Stories with Ryan, in which the protagonist puts on pajamas and reads sleep-inducing stories to a herd of sheep puppets. A representative for the network declined to share viewership numbers for the network or the program initiative in Wales.
The latter, presented in conjunction with Welsh public television channel S4C, shows a curiously captivating harvest. The Welsh shows on offer include Pen Petrol, a documentary series about young car-obsessive people who don't like to smile in North Wales; Red Wall, a football-crazy talk show with a distinctly '90s vibe; and Bang, a melodramatic family drama set in a steel town. There's also Y Fets, a show about a veterinary surgery in the seaside town of Aberystwyth. And of course there is Wrexham propaganda, via Wrecsam Clwb Ni (Wrexham Our Club), a surprisingly polished behind-the-scenes documentary with a focus on female subjects. As pure as his love of all things Wales may be, Reynolds' latest passion project also happens to be a crafty lead-in to season 2 of Welcome to Wrexham, which airs later this year. (The Welsh team is currently touring the US this summer.)
Despite the "Don't worry, there will be subtitles!" headline that featured a recent Guardian article on the Canadian actor's curatorial project, English-language translation is only occasionally offered. Last week's attempt to tune in was a failure and it was clear that non-Welsh speakers (including the three-quarters of the Welsh population who are not fluent in Welsh) will have to find other ways to interact with the programming.
Anyone not fluent in Cymraeg has little choice but to submit to the hypnotic side of the experience. Between the unfamiliar sounds – soft but throaty – an English sentence occasionally slips from the mouths of the personalities. The expressions of the bearded gearheads of Pen Patrol (I dread the day the Sons of Anarchy cast members show up for DNA testing) bear recognizable but mysterious expressions such as "boy racers" or "anti-social driving."
Wednesday's program block was in better shape in terms of subtitles. There are plenty of brass on Red Wall, a chaotic pick-me-up of a show that seems to celebrate anything so long as it's Welsh. The show is packed with games, guests, and rosters from kids tuning in via Zoom — a recent episode caught a chef, a cage fighter, and a football player calling in from a home office that was decidedly not ready for Room Rater (another football star called at the wheel of his car); in another we were treated to an older man playing acoustic guitar and singing wistfully about the World Cup. It's not just men: award-winning novelist Manon Steffan Ros threw up to give the hosts wind in their sails, then agreed to kick balls towards a goal. (It's a shame more shows don't ask their guests to stay and do just that.) Instead of commercial breaks come annoyingly tempting animated recipe cards for either Welsh or Spanish (just add jamón!) or Greek (olives!) rarebit.
A Bang triple header was unfortunately not a blast. No one should watch three hours of humorless conversations in dark rooms, as well as detectives pacing for humorously large maps hanging in dark rooms.
All things considered, after six hours of programming in Wales, did this viewer sign up for a course in Cymraeg? Did she laugh, cry, or cry? I can't lie. But for whatever reason, I'm suddenly fixated on finding a live Welsh Sheep cam to launch on my laptop. Something to keep me company until next Wednesday.
Adblock test (Why?)